Welcome to SivoryPuntaCanaResort.com
Sivory Punta Cana Boutique Hotel - All Inclusive
As the wonderfully last and most secluded of hideaways on a stretch of Punta Cana shoreline, Sivory Punta Cana Boutique Hotel is a place to be gloriously alone. Where your every need is fulfilled by a staff practiced in the art of anticipation. Imagine isolated days spent lounging by the infinity pool or at the Caribbean's edge.
Embrace the gentle solitude of this intimate resort, with holistic spa escapes, artful restaurants and a devotion to the pleasure-seeking luxurious lifestyle destined to transport the most discerning of travelers to a state of complete relaxation.
The award-winning Sivory Punta Cana resort welcomes you to experience a quieter, more authentic Dominican Republic.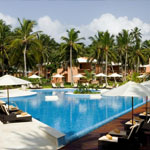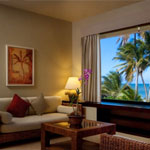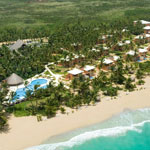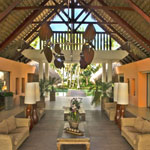 An Incomparable Destination Among Punta Cana Resorts
As one of the best getaways in the Dominican Republic, Sivory Punta Cana Boutique Hotel blends the beauty of the Caribbean with the style and design of an intimate Polynesian hideaway.
Nestled amidst a lush tropical landscape overlooking an exclusive private beach, our 55-suite resort invites you to indulge in the replenishing embrace of our Aquarea Spa & Wellness Center, relax by our oceanfront infinity pool and savor the gourmet culinary pleasures of our award-winning restaurants.
The Sivory experience begins upon arrival. For guests desiring adventure, we offer a 15-minute helicopter ride from the airport directly to the resort. You will touch down on the beach, where you are greeted with champagne service and immediately checked-in to your room.
Throughout your stay at Sivory Punta Cana Boutique Hotel, you will enjoy an exceptional range of hotel amenities, complemented by a friendly staff in perfect harmony with your needs at every moment.
Luxuriously appointed accomodations
Private beach & infinity pool
Aquarea spa & wellness center
Sophisticated wedding and conference services
Three superb restaurants
Golf packages
Jacuzzi and sauna
Fully equipped gym
Wine cellar
Resort Activities
Another sun-splashed day, caressed by gentle Caribbean breezes, serenaded by the gentle roll of the surf. The time has come to relax, let go and free your mind to the possibilities of the Punta Cana coast.
So many activities… Should you sip tropical cocktails on the resort's private beach or nap by the infinity pool? Play tennis or try your hand at windsurfing? Book a massage at the hotel spa and wellness center or a deep-sea fishing adventure?
At Sivory Punta Cana Boutique Hotel, the choice is yours... do everything or nothing at all.
Sivory Punta Cana Pool & Beach, Tropical Solitude Perfected
With its hypnotic infinity edge, the swimming pool at Sivory Punta Cana Boutique Hotel appears to vanish into the azure Caribbean waters beyond.
Disappearing into a book, or your thoughts, becomes effortless on the nearly deserted teak deck, which offers chaise lounges, umbrellas and stone chaises immersed in the water.
Guests are welcome to enjoy the resort's signature Valet service, which offers light-fare menu selections from the Blu Bar, along with tropical frozen drinks and beverages.
Steps from where you recline, one of the most secluded beaches in the Dominican Republic awaits. Enjoy a barefoot stroll, your footprints rinsed clean at the waterline behind you. Succumb to the rhythm of the tides and contemplate the private ribbon of sand that is exclusively yours for as far as the eye can see.
Transcend the Ordinary Hotel Spa Experience
Inspire and indulge every sense amidst the gentle breezes and native fragrances of the Punta Cana coast. Let the warmth of the Aquarea Spa & Wellness Center permeate your soul.
Relax in the tranquility of this intimate oceanfront retreat, where a 4,300-square-foot enclave of cool coral stone and meditation gardens awaits.
For individuals and couples, the restful spa within Sivory Punta Cana Boutique Hotel is a sanctuary where spirits are revitalized and energy restored. Signature wellness therapies include thermal, lymphatic drainage, hydrotherapy and luxury treatments utilizing indigenous extracts and essences.
In addition to private, custom-designed treatment rooms, a Jacuzzi, thermal pool and sauna are available to all guests. Customized packages for couples and brides are available.
Meetings at Sivory Punta Cana
For conference planners seeking a creative alternative to the standard hotel meeting – a gathering that promotes productivity, inspiration and teambuilding - Sivory Punta Cana Boutique Hotel offers exciting possibilities.
Our Larimar and Amber conference venues, named for Punta Cana's precious stones, can accommodate a combined 150 attendees with state-of-the-art audio visual techology available by request.
Our professional onsite meeting planners are available to arrange every detail, whether you're hosting a small executive getaway or a larger, company-wide convention. Enticing menu options are available, along with delightful breakouts to help your guests unwind between meetings.
Additionally, Sivory Punta Cana Boutique Hotel offers unique teambuilding experiences such as dune racing, off road racing, beach Olympics and other activities.
Let our Punta Cana Resort be your Guide
Situated in Uvero Alto, along the shores of the Dominican Republic's gold coast, is a private respite where harmony coexists with nature to transport guests to a state of complete relaxation: The Good Life.
At Sivory Cana Boutique Hotel, you'll discover a marvelous vantage point for experiencing the vibrant sights, sounds and attractions of this breathtaking destination.
To simplify your vacation planning, please consult the Resort Concierge for recommendations and arrangements for visiting nearby attractions.